The Source Receives Grant from Community Foundation for Brevard
I am Ministries, Inc. dba The Source has received a grant from the Barbara Wells Family Foundation and Brevard Relief Fund at the Community Foundation for Brevard to support the Palm Bay Dignity Bus Program. The $5,000 grant will be used to subsidize the salary for a full-time Palm Bay Dignity Bus operator. "The Community Foundation is excited to partner with The Source on this innovative program to help address homelessness in our community," shared Donna Sewell, philanthropy manager at the Community Foundation.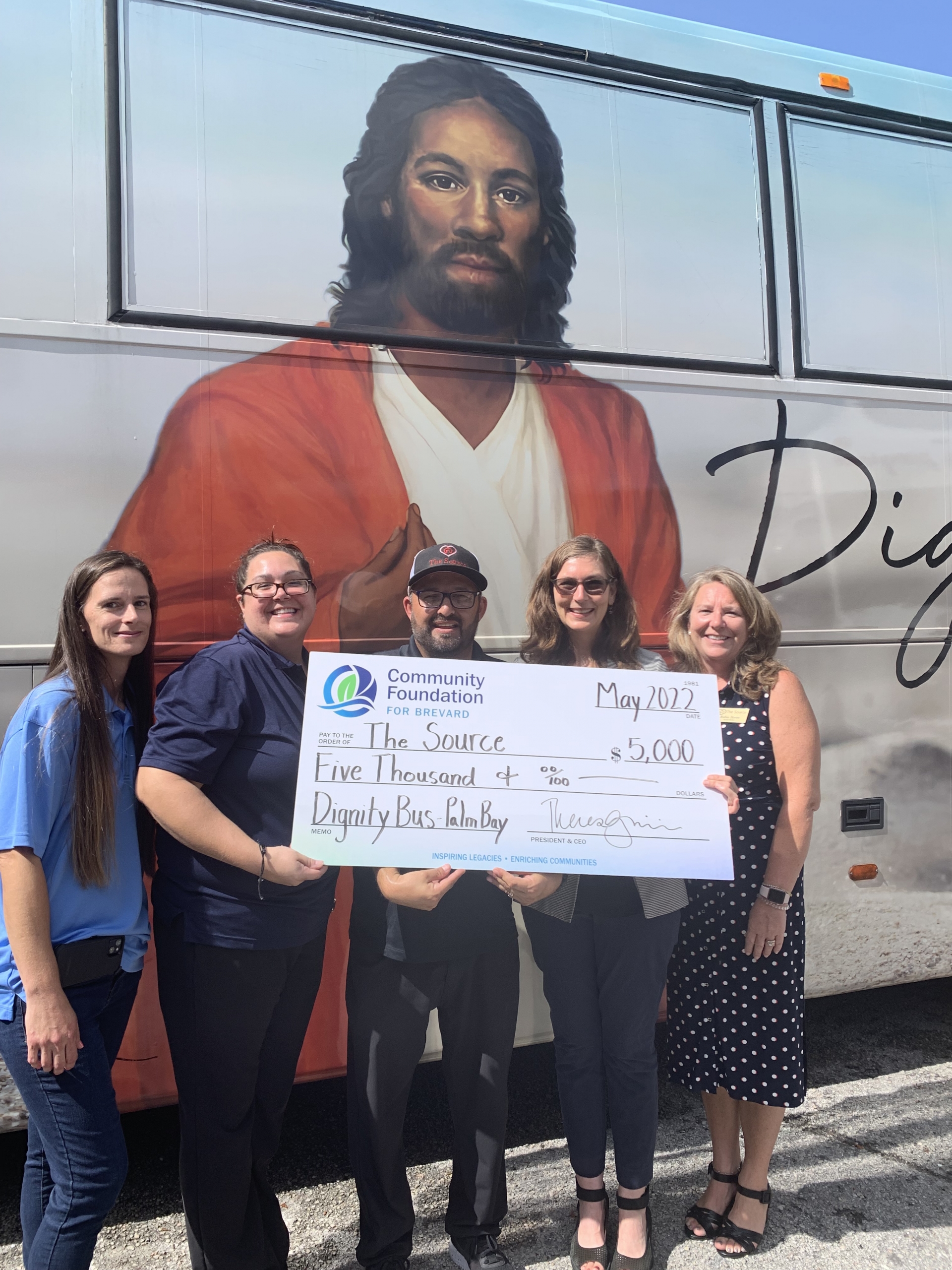 The Source in Vero Beach, under the leadership of Executive Director Anthony Zorbaugh, along with local community leaders, supporters and donors, officially opened the doors to the "new" Palm Bay Dignity Bus, now open every night to 16 needy people living on the streets of Palm Bay in need of a good night's sleep. The Palm Bay Dignity Bus is a partnership, The Source, The City of Palm Bay and St. Vincent de Paul of St. Joseph's Parish in Palm Bay.
As the second of its kind (the first is in Indian River County), this 40 foot overnight emergency shelter on wheels, is distinct and unique with a custom-made interior and exterior, providing 16 secure, climate-controlled, individual sleep pods with a privacy curtain, a lockable door, a rest room, under-bus storage, pet pods for companion animals, an onboard overnight security person, a monitored CCTV surveillance and an air-filtration system. One Dignity Bus provides up to 5,840 safe sleeps per year. The Bus is open for sign in at St. Vincent de Paul of St. Joseph's Parish in Palm Bay up to 9 p.m. daily on a first-come first-served basis.
"We are so pleased to be welcomed as warmly as we have been into the Palm Bay, Florida market," states Zorbaugh. "The Palm Bay Dignity Bus is being utilized nightly by the more needy individuals in the community. The generosity from local donors and foundations such as Community Foundation for Brevard makes it possible for us to operate this emergency night shelter 365 nights a year."
Community Foundation for Brevard serves as a leader, catalyst and trusted resource for
philanthropic individuals and organizations to expand, enhance, and sustain Brevard's quality of life. For more information on the Foundation, contact Donna Sewell at 321-752-5505, DonnaS@CFBrevard.org or visit their website Community Foundation for Brevard (cfbrevard.org).
For more information on The Source and The Palm Bay Dignity Bus or how to make donations towards the yearly expenses needed to operate the Bus, call Anthony Zorbaugh at 772-564-0202, email tony.zorbaugh@iamthesource.org or visit www.iamthesource.org.
–
Photo Attachment: (L-R)Dignity Bus attendants Amanda and LeAnne, Executive Director of The Source-Anthony Zorbaugh, Donna Sewell Community Foundation for Brevard and Robin Herow Source Grant Writer.