Anthony Zorbaugh, Executive Director of The Source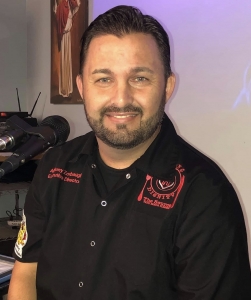 His family's legacy instilled resilience and compassion in Anthony Zorbaugh. After attending Penn State University, he started a career in criminology, eventually worked in juvenile detention and started outreach programs to help at-risk children. He launched a faith-based program, The Mix at Arbor Place, and was the founder of the Police Athletic League in Lancaster, Pennsylvania, his home state. Anthony was Development Director at The Hope for Families – Palm Bay. He and his wife, Anna, have been married for 21 years, and have a son and a daughter, and six grandchildren. Anna worked for a pharmaceutical company before she and Anthony moved from Pennsylvania to Florida.
In May 2017, Anthony became the Director of The Source, a charitable organization that began in 1995 serving the needy by offering free meals and Bible Study in a tiny storefront in Osceola Plaza. The Source has since grown into a comprehensive assistance center of 5,000 sq. ft. The outreach facility is on Commerce Avenue open seven days a week, providing life-changing possibilities to residents in crisis in Indian River County. The Source offers emergency hunger relief, clothing, counseling, emotional support, hygiene items, mail and telephone services, benefit referrals, and weather refuge. He has brought his cumulative life experience, faith, and community partnerships as Executive Director of The Source.
His recent outreach, on behalf of The Source extended 500-miles across the state to assist families hit by Hurricane Sally in Pensacola, Florida, late 2020, as well as a flight to the Bahamas with a plane filled with food and other necessary supplies to the Bahamas who have been devastated by several storms over the past several years. Most recently, some key members of his staff joined him on a trip to a Ministry in Flint, Michigan, looking for advice in further trying to help the homeless and needy in their area.
Anthony's recent achievement is part of the Business Executives for National Security (BENS), a unique nonpartisan nonprofit comprised of senior business and industry executives who apply best business practices to address the nation's pressing security challenges. Yearly, the organization presents the "Eisenhower Celebration" (named for the nation's 34th President Dwight Eisenhower) honors public servants and private citizens making remarkable contributions to the national security enterprise. This year the celebration, to be held virtually on April 21, will include the recognition of fifteen local community leaders from all over the country that have excelled during these recent times of crisis. Anthony is one of those fifteen leaders being honored for his achievements on behalf of the homeless and needy individuals in Indian River County. Information about him and The Source, as well as a variety of photos that include The Dignity Bus and other Source programs and services, will be profiled during the broadcast.
Anthony's greatest achievement, out of many, is implementing his current initiative in the creation of the Dignity Bus, a mobile overnight emergency shelter sleeping twenty (20) homeless individual seven nights a week, the first of its kind in the county. What will follow, and currently on the drawing boards is The Dignity Village, a multi-acre community offering adorable housing, activity space for dining, praying and life skill training. Under Tony's leadership, The Source gives options, alternatives, new ways of thinking, and helping people out of homelessness rather than perpetuating it.