Marine Bank Supports The Source's Annual
"

Night of Hope

"

Fundraiser
The Source's 16th Annual "Night of Hope" will take some twists and turns this year when they present the event via ZOOM rather than in-person as it has been in the past. The change of venue will be from home for all the attendees, complete with a professionally produced video as part of an informational, all-encompassing and memorable agenda plus moving musical interludes performed by Broadway's own Anne Brummel and Michael Williams. It will be held on Monday evening, February 15 beginning at 6 p.m.
A highlight of the evening will be a four-course dinner prepared by The Source's own Dignity Caterers. Marine Bank & Trust graciously sponsored the printing of the Dignity Food Bags which will be used to pack the food and other incidentals when they are delivered to attendee homes earlier that day.
The invitation list, a compilation of old and new supporters of The Source, is limited. However, to request an invitation, please contact Anthony Zorbaugh at 772-564-0202, Ext. 204.
The Source, a Christian Ministry Outreach Center, offers life-changing possibilities to residents in crisis; offer emergency hunger relief, clothing, counseling, support groups, hygiene items, showers, mail and telephone services, benefit referrals, cold weather refuge, and much more. As first responders, The Source helps provide critical care for physical, spiritual, civic, and social needs. For more information on The Source contact Executive Director Anthony Zorbaugh, 772-564-0202, Ext. 204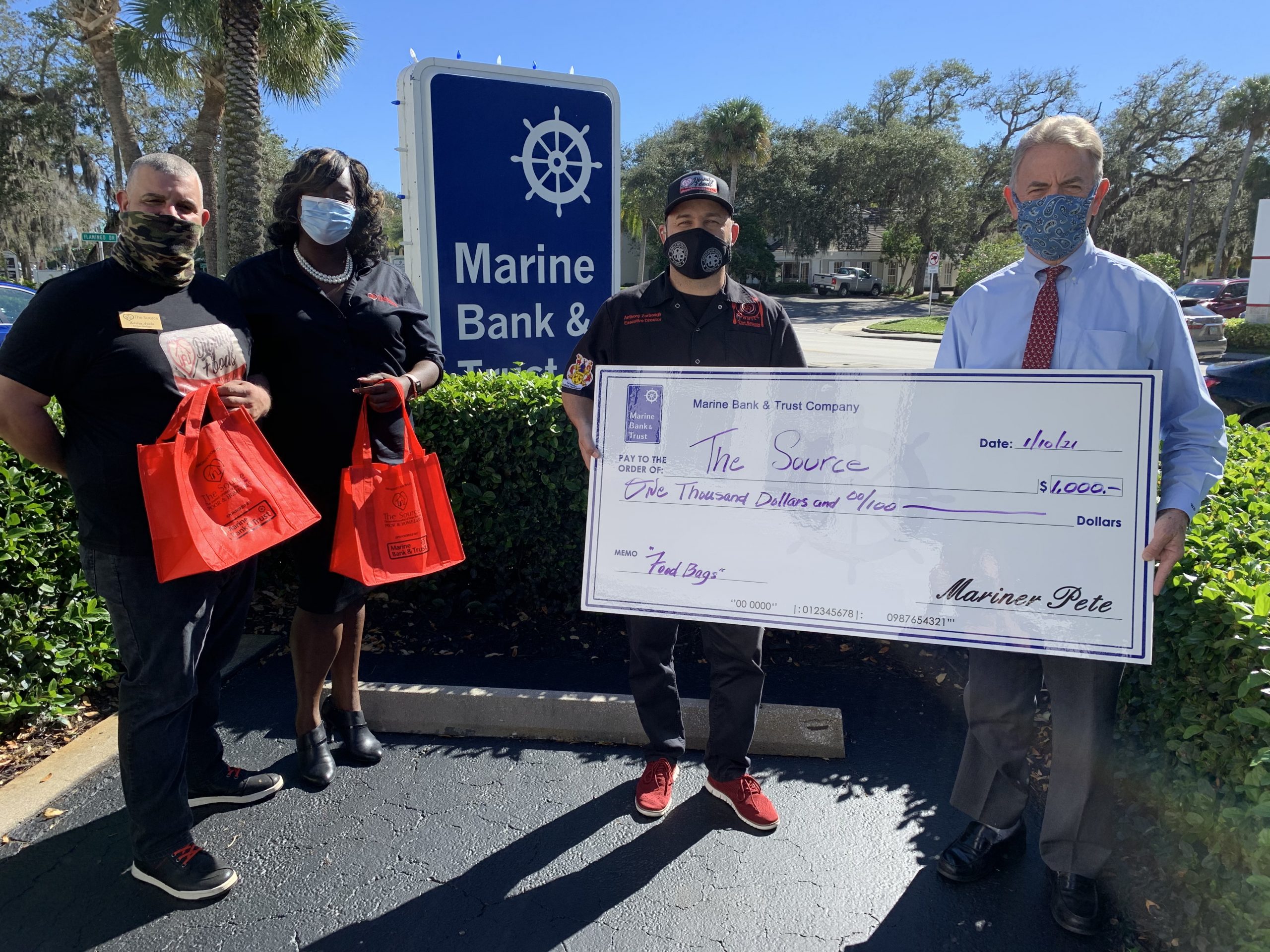 Photo (Provided by Beverly Paris)
Marine Bank's Bill Penney and The Source's Anthony Zorbaugh (far right) during the check passing at Marine Bank. The Source's (far left) Maureen Archer and Karlos Alaya with the Dignity Food Bags